Enterprise Safety Platform
We solve complex HSE problems for enterprises around the globe with beautifully simple solutions.
Unify Employee Welfare Monitoring
With a GetHomeSafe Enterprise package you unlock access to additional features like active directory and end-to-end support from our experienced account management team.
From conceptualising and configuring or even developing a solution bespoke to your requirements right through to approval and implementation we will make the process easy.
We understand the challenges scoping, procuring, implementing and getting the most out of SaaS solutions presents for Enterprise-level organisations like yourselves. It's our job to make it easy for you, talk to us about what a GetHomeSafe Enterprise support package could do for you.
Free Trial
One Source of Truth
Centralise all your fragmented systems, technology and hardware into one platform. Create a single, real-time platform for your entire organisation's health, safety, and welfare monitoring requirements.
Ensure compliance with all your data, processes, and policies stored in one place

Benefit from an easy-to-use, effective and surprisingly cost effective platform

Bring together all of your employee safety tools and devices on one platform

Enable access to different tools for each team, business unit, and region

Integrate third-party tools and software in one bespoke platform
Get a unique, custom-built enterprise safety solution with GetHomeSafe - Enterprise.
Unify & Automate
Unify your HSE solutions into one platform
Automate manual processes
Digitise paper-based approvals
Learn & Improve
Report and learn
Adjust and refine over time
Measure improvements
Return on Investment
Save time monitoring & approvals
Reduce hardware requirements
Guaranteed return on investment
Book a Demo
Learn more about how GetHomeSafe can meet your welfare monitoring requirements by booking a live demonstration to see the platform in action.
Book a Demo
Enterprise Support Packages
Implementation Support
Key stakeholder engagement & approval
Business case assistance & security reviews
Custom eLearning & superuser training
Bespoke Customisations
Co-branding or white-labelling
Bespoke feature toggling
Feature development by arrangement
Enhanced Account Management
Service level agreement & dedicated account manager
Proactive account management
Direct channel for feature development feedback
Enterprise Requirements
GetHomeSafe meets the requirements of all key stakeholders within your Enterprise from IT security through to finance and even unions:
Enforceable single sign-On & two-factor authentication

Azure active directory integration (AD)

Service level agreement

Enhanced account management

Data & personal information access controls and auditing

Custom features and integrations

Government level digital security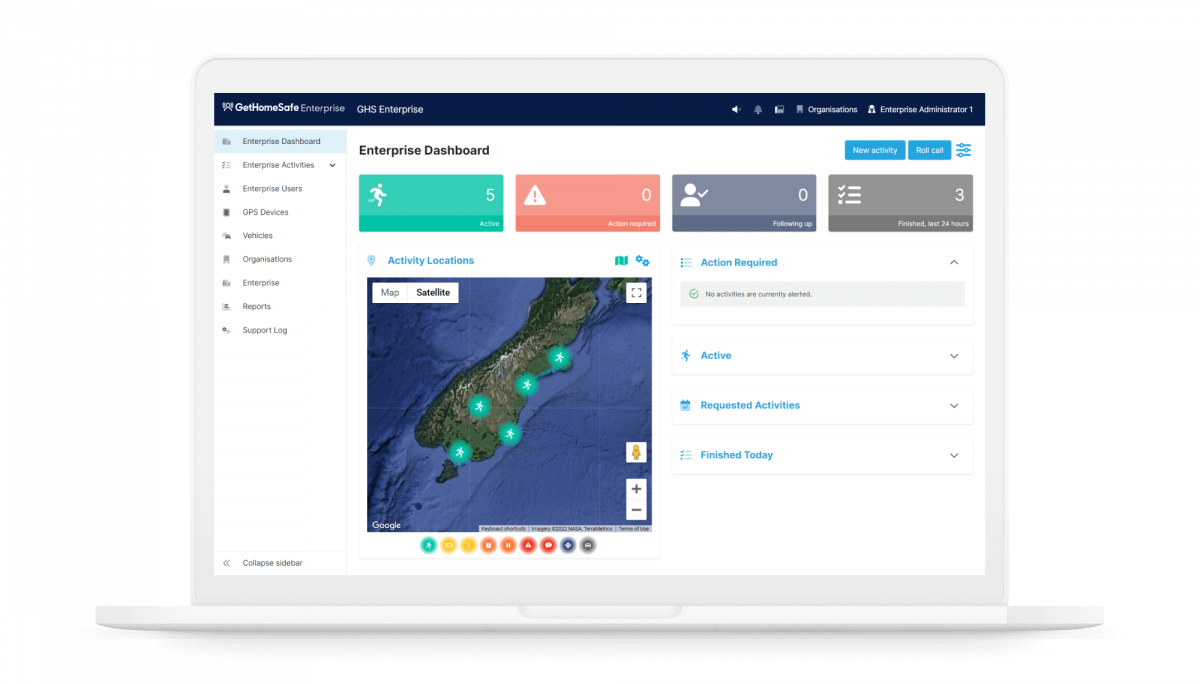 Enterprise Must-Have Features
Key Features
Active directory
Enforceable single sign on
Two factor authentication
Security
ISO 27001 Data centers
Regional data hosting
Penetration testing & audits by arrangement
Return on Investment
Save time monitoring & approvals
Reduce hardware requirements
Guaranteed return on investment
We understand the journey will take time and effort from both parties, it starts with a free series of discovery session to explore your requirements and live demonstration of the GetHomeSafe solution.
Contact Us