Journey Management Solution
Stay informed of your mobile workforce's journey plans and approvals to guarantee their safe arrival by using GetHomeSafe's Journey Management solution. Reduce time, effort and money by using our solution, which includes optional Risk Assessments and Fatigue Management features, making it perfect for travelling workers.



Planning & Approval Software For Your Mobile Workforce
GetHomeSafe is a complete software solution to help manage the risks of both travelling and working in hazardous environments with our easy-to-use Journey Management App.
More than just a travel safety app, you get everything readily available to plan, review, approve and track journeys in one easy-to-use platform that can be configured to meet your needs.
Combine your solution with additional Journey Management features such as linking your vehicle tracking, and incorporating our risk assessment and fatigue management solutions to streamline your mobile workforce processes.
Try now for free, no credit card is required and it only takes a minute or alternatively book a free no obligation live demonstration.
Journey Management Planning The Easy Way
Our Journey Management solution is designed to make managing risk and monitoring safety more accessible and efficient, even while on the move. Pre-plan detailed journey plans, schedule them in advance, and customise which types of jobs require approval by a manager or supervisor before departing.
Along with helping you plan, review, and approve journeys, our solution now includes features that allow you to automate the Journey Management and Risk Assessment process. Allocate up to 25 risk assessment questions to specific activity types with optional restriction levels that are determined based on the risk level. This ensures that you are able to identify and address potential risks before they occur, making it easier to manage and mitigate the risks associated with travel.
So why should you choose GetHomeSafe for your Journey Management solution?
Efficiently plan, review, and approve journey plans.

Speed up approval times with pre-approved travel plans.

Assign risk assessment forms to specific activity/job types with restriction levels. Have access to automated data for audits, compliance and health & safety checks.

Incorporate Fatigue Management solutions and Vehicle tracking for a complete solution.
GetHomeSafe's Journey Management solution will save you money. Spend just a few dollars per user, per month to save hundreds of hours of admin and paperwork time.
Try Now For Free
Try our Journey Management app for free, no credit card is required and it only takes a minute.
Free Trial
Know Where Your Team Are And Are They OK!
No matter how they are travelling
With GetHomeSafe - Journey Management you can review your employees route to ensure:
Total driving times are not intentionally exceeding policy limits.

Journey legs and break times fit your fatigue policy.

Sites are visited in a logical order.

Routes are optimised to minimise travel distance and carbon footprint.

Fatigue is checked prior to and routinely throughout the journey with a cognitive test.

Use our Remote Working solutions for travel out-of-cell coverage.
Vehicle Tracking Integrated With Journey Management Planning
Linking your vehicle tracking solution with GetHomeSafe's Journey Management Planning solution centralises all your travel and fatigue information into a single platform. This allows you to increase the efficiency and accuracy of your travel risk management processes.
The benefits of linking your vehicle tracking with GetHomeSafe include:
Real-time GPS proximity of your workers relative to their vehicles - two locations on one map.
Receive GPS location information of all assets; owned, rented or hired, when journeys are tracked through our Journey Management app.
Report on which assets are being used for higher-risk activities.
Process duress, man-down, collision and rollover events in a standardised process within the same centralised platform.
Extend coverage beyond standard cellular networks by using our Remote Working solutions.
Learn More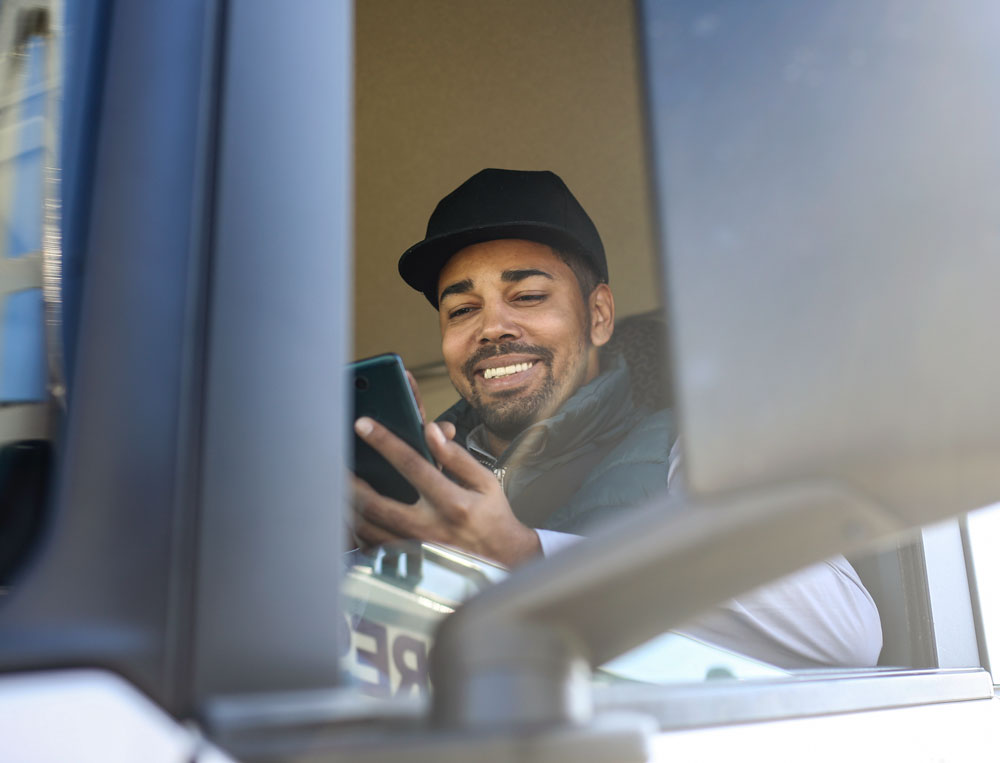 Contact us for a quick informal chat with one of our friendly team members. We'd love to discuss your Journey Management requirements.
Contact Us