Travel Safety
Reduce the time, effort, and money it takes to plan and approve journeys for your mobile workforce with GetHomeSafe - Journey Management

GetHomeSafe - Journey Management is designed to take the challenges out of planning and approving journey plans for your mobile workforce. We understand that paper based journey management plans are time consuming and we have created a solution that solves this issue and streamlines the process.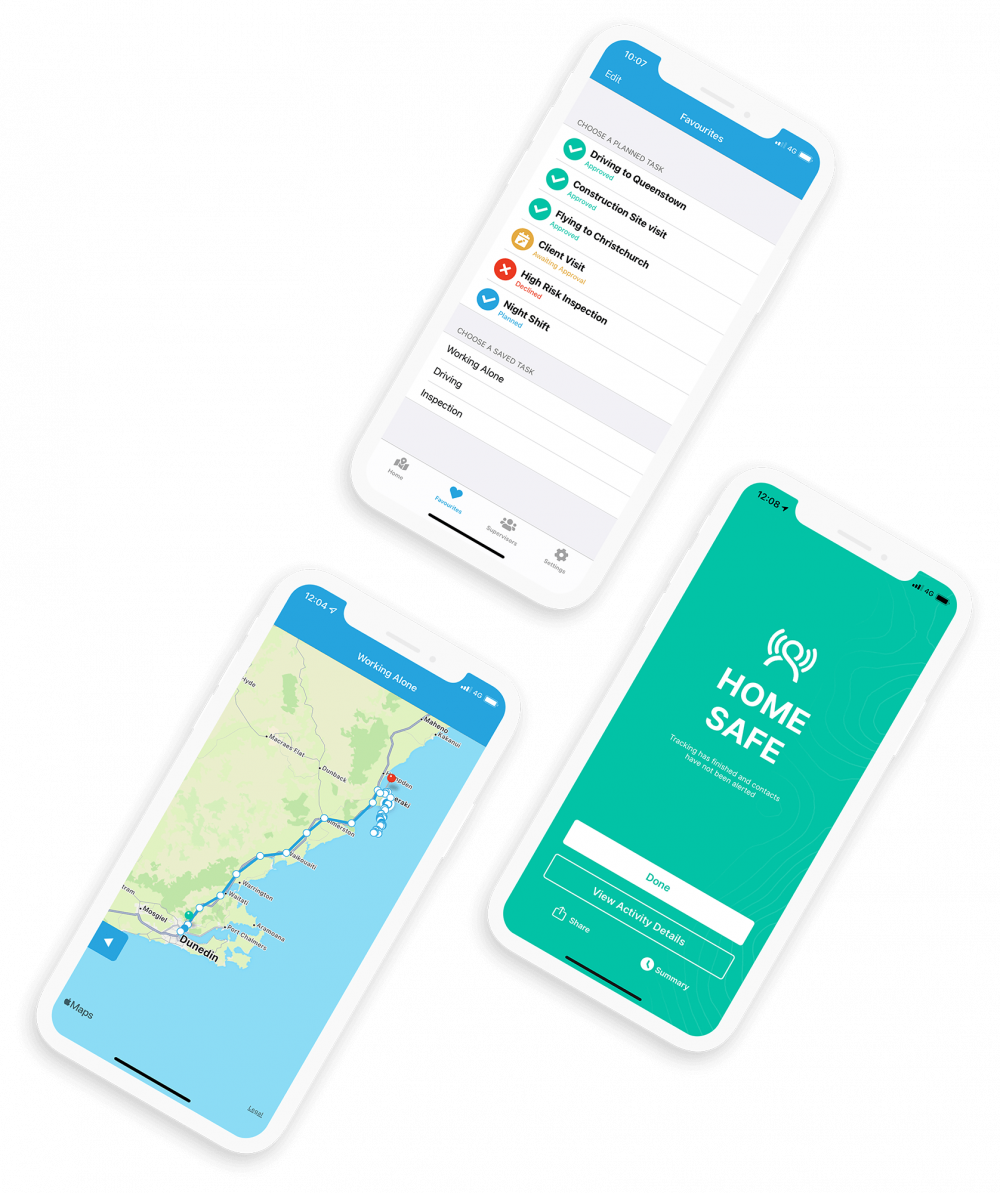 Planning & Approval Software for Mobile Workforce and Risk Management
GetHomeSafe - Journey Management is a complete software service to manage the risks of travelling and working in hazardous environments. The solution includes:
Journey Management

app

Integrated vehicle or fleet management system (optional)

Real-time safety monitoring portal
It is a cost-effective and engaging way to meet your Health and Safety at work legal obligations for your mobile workers who travel long distances. GetHomeSafe - Journey Management puts you firmly in the driving seat, with:
Full control over travel plans and routes

Point-to-point GPS tracking

Time-based check-ins

Fatigue checks and alerts

Professional journey monitoring
More than just a travel safety app, you get everything readily available in one easy-to-use platform that can be configured to meet your needs.
Start a Free Trial Today
Get started with a free trial of GetHomeSafe, no credit card required and it only takes 2 minutes.
Start Now
Journey Management Planning the Easy Way
Our Journey Management System allows workers to quickly and easily pre-plan trips and request for approval before they leave, from their phones or desktops. Supervisors can quickly and easily review these travel plans from their phone or computer, managing risk on the go.
Managing risk and monitoring safety has never been so easy. Why should you choose GetHomeSafe - Journey Management?
Rapidly plan, review, and approve journey plans

Speed up approval times with host pre-approved travel plans

Manage journeys on the go with the JMS mobile app

Access everything you need in one simple-to-use, real-time platform

Save time by automating many planning, approval, and monitoring tasks

Be prepared for audits and compliance checks with automated data and health and safety compilation.
GetHomeSafe - Journey Management will save you money. Spend just $4.50 (US) per user, per month to save 100's of hours of admin and paperwork time.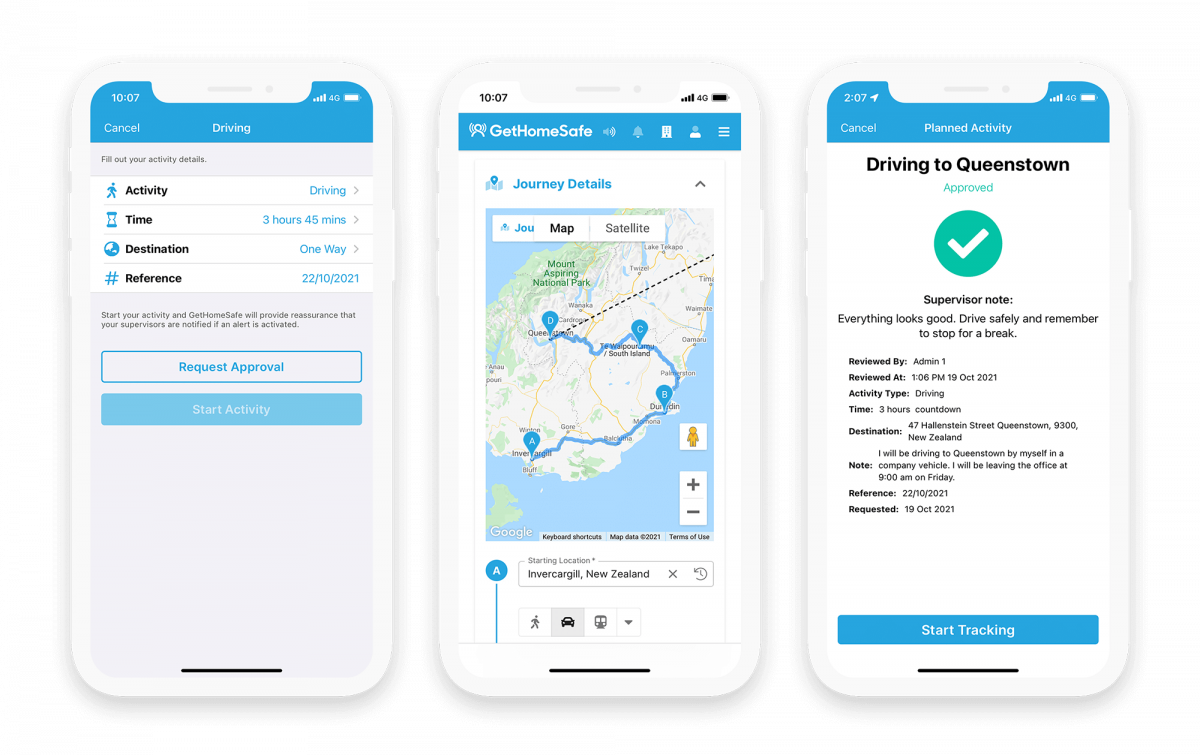 Simultaneously Manage Fatigue, Reduce Carbon Miles & Optimise Routes
Save time, money, and the planet by using one platform to review and approve journey plans. Also, you help to reduce driving accidents by managing the risk of fatigue.
With GetHomeSafe - Journey Management you can review your employees route to ensure:
Total driving times are not intentionally exceeding policy limits

Journey legs and break times fit your fatigue policy

Sites are visited in a logical order

Routes are optimised to minimise travel distance and carbon footprint

Fatigue is checked prior and routinely throughout the journey with a cognitive test.
We are big believers in the saying "Fatigue does not fit on a form". Managing fatigue is not a tick-box exercise. There are many variables that cause tiredness, and the majority of those are not work-related.
Your drivers may have family issues - unwell children, relationship stress, money worries, or even substance abuse. These all contribute to fatigue and none can be measured, or even honestly revealed, on a form.
Our cognitive test is quick, easy, and based on $5M of research. No personal questions, no opinions - just solid science that helps to alert you of dangerous fatigue before it's too late. Try the GetHomeSafe way of managing fatigue and see the results for yourself.
Start Now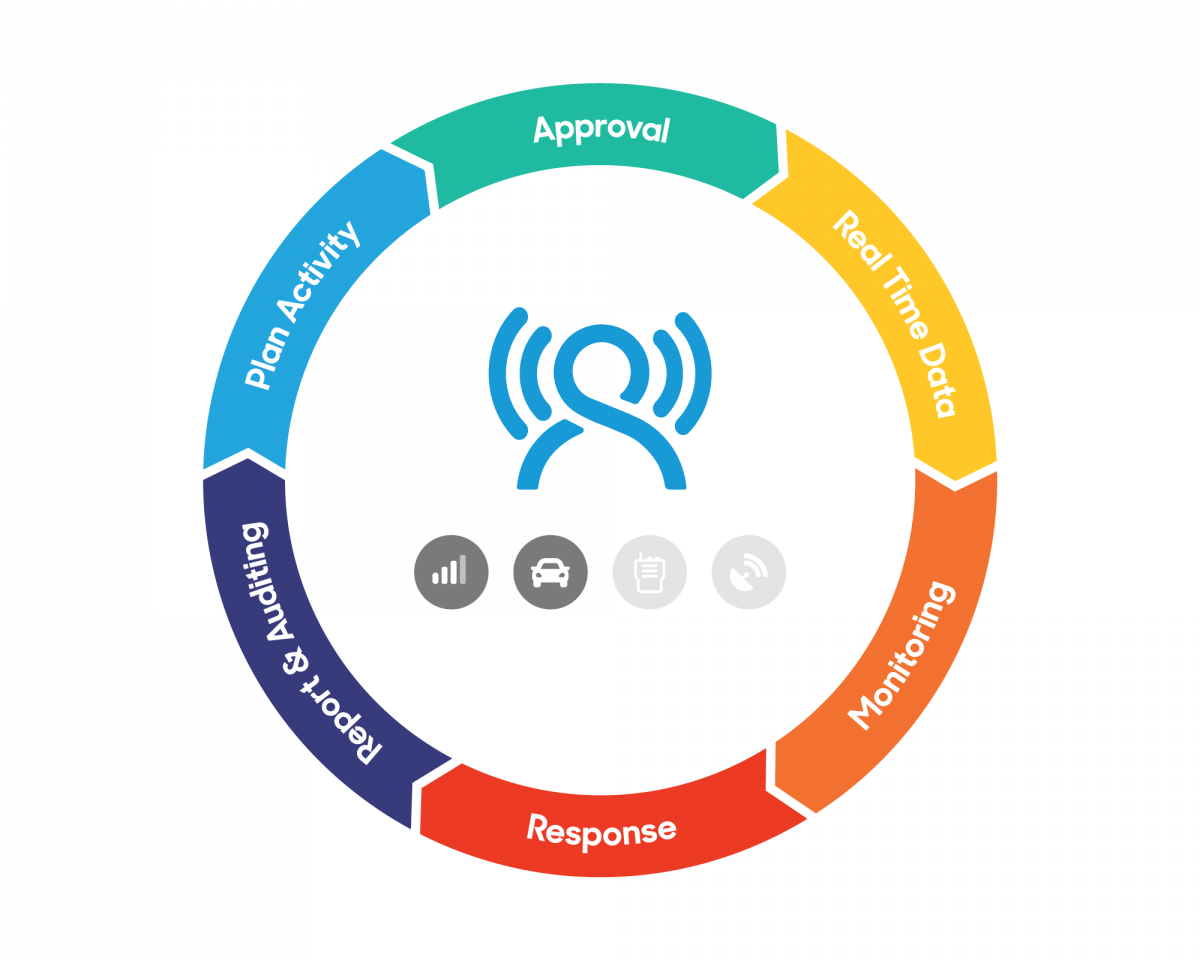 IVMS Integrated with Journey Management Planning
Linking your IVMS solution with GetHomeSafe - Journey Management centralises all your travel and fatigue information into a single platform. This allows you to increase the efficiency and accuracy of your travel risk management processes.
Bring all of your employee welfare and GPS tracking technology into one place and link your journey plans, approvals and processes. Journey monitoring has never been so accurate and easy.
The benefits of linking your IVMS with GetHomeSafe - Journey Management include:
See real-time GPS proximity of your workers relative to their vehicles -two locations on one map

Receive GPS location information of all assets, even rented and hired ones, when journey's are tracked through the JMS app

Report on which assets are being used for higher risk activities

Process Duress and Collision, and Rollover events from IVMS in a standardised process. Integrate GHS within the same centralised platform as all the other duress, mandown and welfare systems you use.

Reduce duplication with Driver ID sync between GHS and your IVMS.
One of the most impressive things about linking a journey planning system with your IVMS is that you can extend your IVMS beyond standard cellular networks by using our Remote Worker Solutions. Discover how to apply Remote Worker Solutions to expand your safety coverage - click here
35 seconds
Average time to plan a journey
43 seconds
Average time to review and approve a journey
Get Started with Journey Management Today
There are no set rules for implementing a journey management system, pick a path that works for you. Now is the time to get started with a free discovery session, so we can discuss what you're looking for.
For Small to Mid-Sized Businesses (Less Than 100 Employees)

Best for SMEs, option one involves an initial free trial to confirm that GetHomeSafe - Journey Management solution is the right fit for your business. Then, once you see the benefits and begin saving time and money, we can fully configure the system to fit your business and roll it out.
Start Now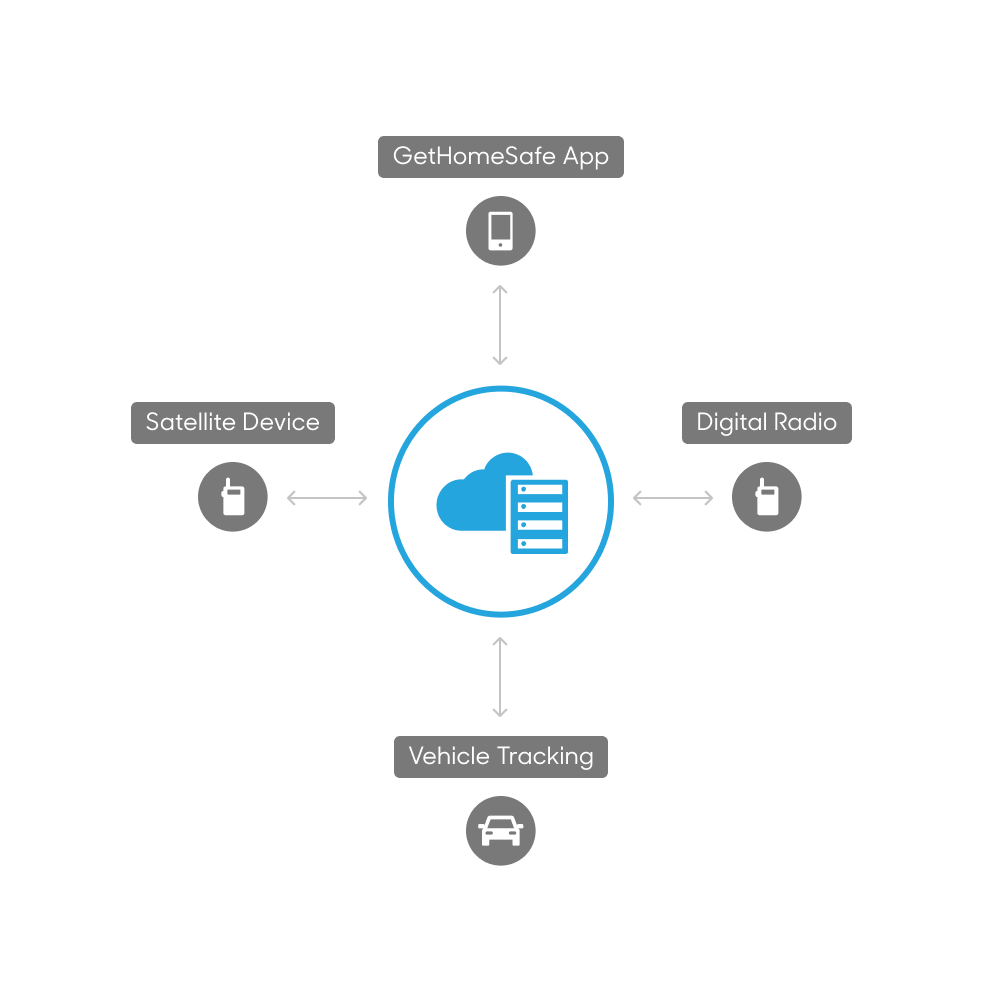 For Larger Businesses (100+ Employees)
Rolling out a journey management system can seem daunting when you have 100's of employees, diverse assets, and multiple regions to cover. We've worked with plenty of large enterprises and we're well used to overcoming these kinds of challenges.
The typical process looks like this:
initial discovery sessions,

key stakeholder review and approval processes,

structured pilot trials,

pilot evaluation,

implementation planning,

customised eLearning,

training the trainer,

roll out,

and service level agreements for business as usual.
GetHomeSafe Enterprise Safety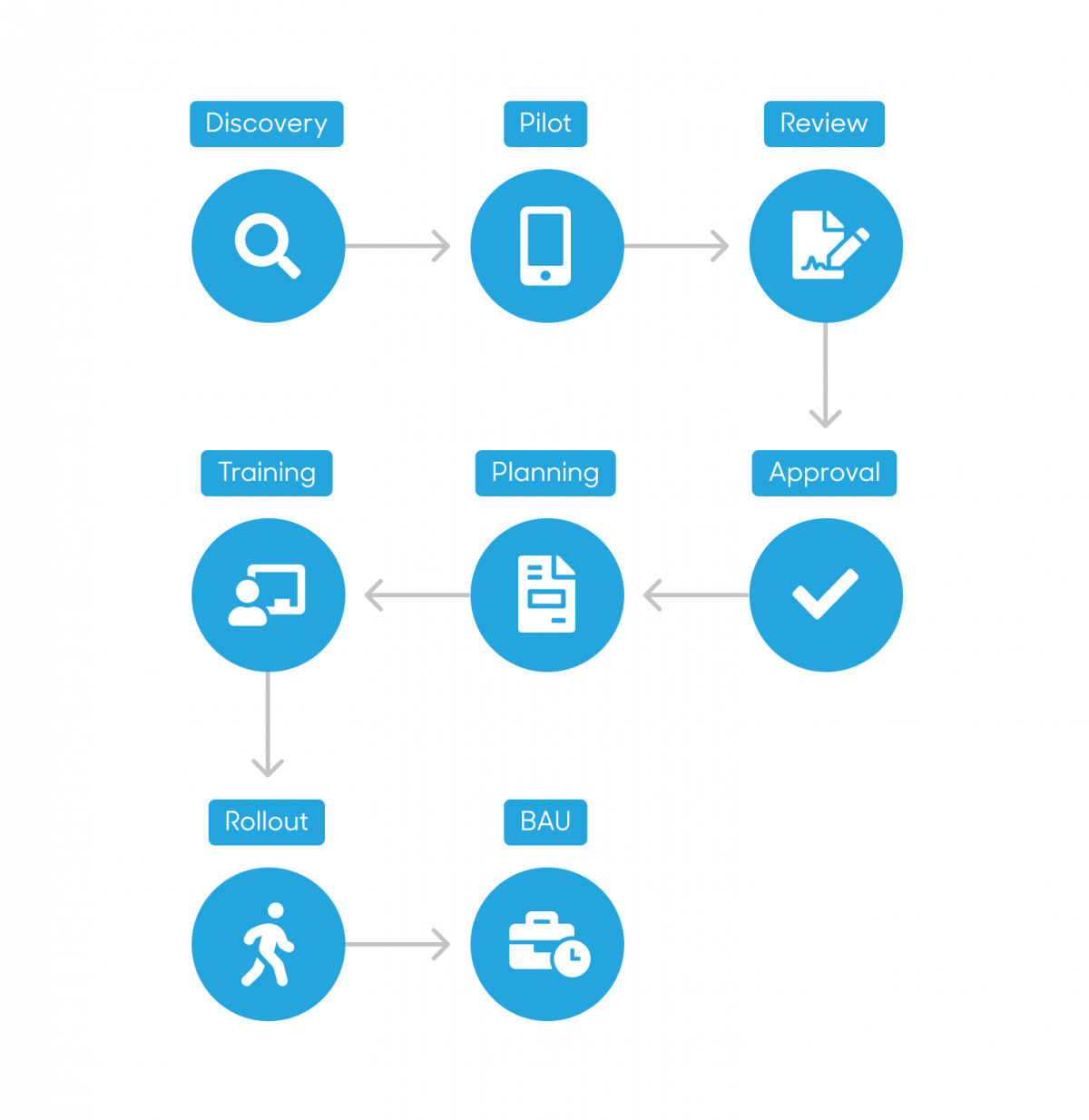 Start a Conversation Today
Start a casual, informal conversation today with one of our team members.
Contact Us