Another Month, Another Adventure with GetHomeSafe
18 January 2022
Another Month, Another Adventure. 
The Kepler Track is a 60km looped hiking track located on the lower west side of the South Island near the town of Te Anau. A challenging, yet diverse walk, the Kepler Track is known as one of nine Great Walks in New Zealand that takes around 3-4 days to complete.
Check out how one of our Account Managers Sophia used GetHomeSafe for her Kepler Track adventure.
Coming to the end of 2021, I wanted to do something adventurous and challenging to end the year with a bang. A little bit unplanned and spontaneous, I decided to walk the Kepler Track with my two brothers in just 2.5 days.
The device I chose to take out with me for my adventures this time around was the Garmin InReach SE+ which fit perfectly in my new hiking pack. I didn't know how much Cell Phone coverage was going to be out there so bringing a Satellite Device was a backup.
We started our hike at the Te Anau Control Gates with the goal of making it to Luxmore Hut on the first day. I opened up my GetHomeSafe app and logged in The Kepler Track as an activity with an 8-hour Countdown ensuring that if we didn't check-in, someone would be notified in case there was no cell coverage.
As we walked up the track we were greeted with a beautiful forest along with the Lake and picturesque views as we hiked up the mountain. When we finally reached the Luxmore Hut in under 5 hours we were greeted by beautiful Kea who cheekily tried to get into our packs.
Check out the GetHomeSafe activity below - Cell Coverage was limited with the purple Satellite Device filling in the gaps when needed.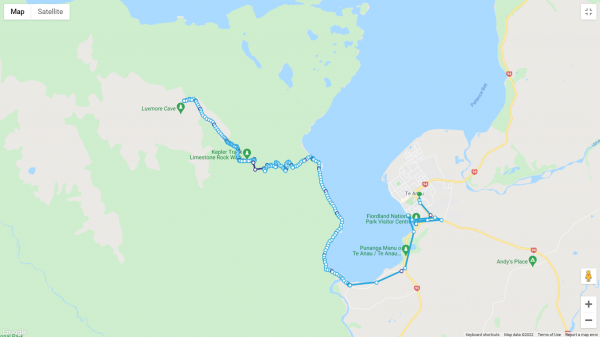 The next day we continued our hike to Iris Burn Hut, a 6-hour hike away. This was probably my favorite part of the trip. Getting higher and higher up the mountain we were rewarded with a beautiful view on the top of the Kepler.
We spent the night at the Iris Burn Hut Campsite in our tent with the risk of Keas poking into our tents at night, thankfully no holes in the tent but I did feel a ruffle of feathers brush against the side of the tent and a cheeky ruffle near my bags.
The next day was an 8-hour walk back to the car park through forest. We stopped off by the lake for a beautiful relaxing lunch break and carried on back to the car.
Having GetHomeSafe running allowed me to focus on the best parts of the trip rather than worrying about texting or calling my Emergency contacts that I was still OK. Even if you don't have a Satellite device, in areas such as the Kepler, there is enough Cell Coverage out there to still notify your Emergency contacts of your last known location if something does goes wrong.